There are 6 kms of trails that are groomed weekly at Larters Golf Course, where you can enjoy a variety of winter activities such as cross country skiing, snow shoeing, hiking and more!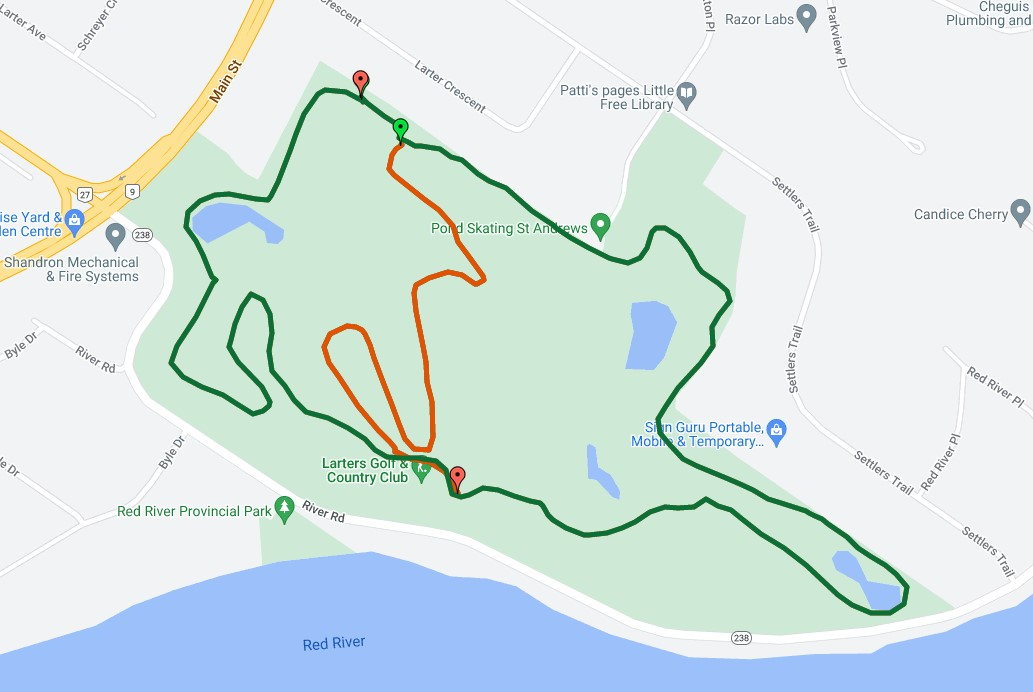 The green outer loop, 3.8 km, has more hills than the orange inner loop, which is flatter and can be used as a shortcut back to the Club House.
Current conditions are updated on the Cross Country Ski Association of Manitoba (CCSAM) website.
The trails which are located on the Larters Golf Course are groomed by the R.M. of St. Andrews. We ask that everyone please respect the property and the trails. The nordic trail is to be used for cross country skiing only. There is lots of room on the groomed trail for hiking, fat tire bikes, snow shoes, skate skiing etc.
A good starting point for the trail is between the clubhouse and maintenance building. Parking is available at Larters Golf & Country Club, 30 River Rd, St. Andrews, MB R1A 2V1. No washrooms or places to warm up are available.
Click here for an album of photos showing the setup at Larters. If you want to see all photos click here.
Larters at St. Andrews Golf & Country Club, Restaurant & Sport Lounge is normally closed in January and open all other months. Check out their website for hours.
Grace's Catering and Deli at 601 Club Road, St. Andrews Airport is about 4 kms west.
Skinner's has 2 locations in Lockport, about 9 kms north with very limited hours (Skinner's Hwy 44 and Skinner's River Road).