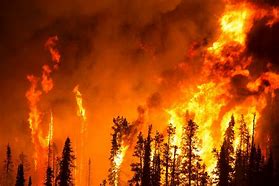 Manitoba Conservation and Climate Wildfire Service is responsible for the prevention, detection and suppression of wildfires. The program manages all human and equipment resources needed for fighting wildfires in the province. Staff monitor weather patterns, lightning strikes, soil moisture and forest conditions to determine the probability and location of wildfires.
Manitoba's Wildfire Service works in close cooperation with other forest fire fighting agencies and jurisdictions. Equipment and other resources are shared through the Canadian Inter Agency Forest Fire Centre and the Great Lakes Forest Fire Compact.
1-800-782-0076 (toll-free)
*this is to report a fire not for local information
The municipality may implement a burn ban when conditions are extremely dry and conditions are at high risk for out of control fires. Burn ban notices will be posted on our website, sent through CONNECT messaging, posted on the RM's social media platforms and signs erected at the entrances to our municipality. These bans can include discharge of fireworks, use of fire pits, bonfires and off-road vehicle use. You can view a map of all the current municipal burn restrictions and bans in the Province here -
Municipal Burn Restrictions Map
. Please also familiarize yourself with the
RM's Burning By-Law
to learn what you can and cannot burn and in what areas.
CROP RESIDUE BURNING
Manitoba Agriculture and Resource Development has a Manitoba Controlled Crop Residue Burning Program in place. It is the farmer's responsibility to ensure that burning is conducted legally and safely, and that smoke does not cause problems.
Smoke from burning crop residues affects people's health, road safety and the environment. Manitoba's smoke management plan encourages practical and responsible ways of dealing with crop residue. If you must burn, you must adhere to
Manitoba's Controlled Crop Residue Burning Program
.
T
he Manitoba Controlled Crop Residue Burning Program is in place from August 1, 2023 to November 15, 2023. Based on weather conditions, start and end times for burning will be established. In addition to the Manitoba Controlled Crop Residue Burning Program, check and follow all other provincial and local burning requirements.
No permits are issued by the R.M. of St. Andrews. Any permits must be obtained from the Province here - Crop Residue Burning Permit Application Form.
If you plan on burning a field or large span of grass or brush, we ask that you notify the area fire chief so that they are aware should a 911 call come in and they can ensure that the appropriate water supply is on hand should it get out of control or they will advise against burning due to the conditions. If a fire does get out of control and spreads out onto adjacent properties, the property owner can be fined under The Wildfires Act as well as the RM's Burning By-Law No. 4326.
ASBESTOS AND NATURAL DISASTERS
Natural Disasters such as wildfires, hurricanes, floods and tornadoes can damage asbestos-containing materials and lead to asbestos exposure among first responders, cleanup crews and nearby residents. Learn how to prevent asbestos exposure when preparing for and cleaning up after a natural disaster.
Check out this guide to learn more about the topics below as well as other safety tips and information on Wildfire Safety.
How is Asbestos a Risk During a Natural Disaster

What to Do During Wildfires

How to Prevent Asbestos Exposure from Other Disasters
Another great source of information is this Homeowners Guide to Asbestos.
WILDFIRES AND FIRE SAFETY
FireSmart begins at home. Home and property owners can reduce their risk of wildfire impacts by implementing FireSmart recommendations on building materials and vegetation. Homes, out buildings, trees, shrubs and grasses are all fuel to a wildfire but proper cleaning, thinning and spacing can help reduce the danger of devastating wildfire losses.
Visit www.FireSmartCanada.ca for more information on FireSmart: Protecting Your Community From Wildfire, or the FireSmart Canada Community Recognition Program. Other useful FireSmart prevention resources are listed below.
---
More resources of information are in the section below.
CURRENT WILDFIRE INFORMATION
CURRENT WILDFIRE WEATHER INFORMATION