Posted September 7, 2022 -
Stray cats/kittens
- Open Letter to Residents from Selkirk Veterinary Services regarding acceptance of stray felines - the letter can be viewed
here
.
You can call 204-757-2083 to report any domestic animal control issues and your complaint will be addressed by the Animal Control Officer.
Part of the service and enforcement that Council would like residents to know is that if your animal is impounded, you will not be able to pick up your animal until all fines, boarding fees and costs have been paid. The animals will be boarded at the Manitoba Animal Hospital on Main Street in Winnipeg, if impounded. Under the current by-law, if a dog is impounded, we must currently only keep the dog for 3 days, or 5 days, depending on whether the infraction occurs on a weekend. If not claimed within this period, the Manitoba Animal Hospital will dispose of the animal. Please be sure that your dog is licensed so that if your dog is impounded, they will know who to contact.
The Animal Control By-Law regulates such things as animals running at large, ensuring dogs are properly licensed, impoundment of animals, collecting of impoundment fees, ensuring proper number of animals are allowed on properties and that kennel permits are properly applied for, apprehending dangerous animals and ensuring there are no restricted animals in the municipality without a proper permit.
More information can be obtained by reviewing the
Animal Control By-Law
. This by-law also lists costs involved for fines, impoundments and licenses along with other pertinent information involving animals within the municipality.
Dog Licenses
Every dog over the age of 4 months is required to have a dog license. Licenses can be obtained from the Municipal Office in Clandeboye. We require the owner's name, civic address and phone number, breed of dog, color of dog, rabies certificate number and dog's name. The licenses are to be renewed on an annual basis. If you are unable to come to the Municipal Office, you can mail a cheque payable to R.M. of St. Andrews for the appropriate amount (listed below) and we will mail you out your dog tag(s). To obtain a Dog License Application Form to submit with payment, please click on the following link:
Dog Brochure and Application Form
.
Dog License Fees are as Follows:
$12.00/year spayed/neutered
$40.00/year not spayed/not neutered
Vaccinations
It is also very important that dogs and cats be vaccinated as there are different viruses that could make a pet sick if they are ever impounded.
Animal Control Contact Information
Live Trap Program
The R.M. of St. Andrews recognizes that we are located within a rural area and as such, pests such as skunks are common throughout the municipality during the year. In an effort to assist our residents in controlling these pests, the RM has purchased live traps that are available for rent.
Wildlife such as raccoons, skunks and squirrels are part of the natural world, but can become major pests when they set up home on your property, causing structural damage, transmitting diseases to your family, or even attacking your pets.
Please note this program is ONLY for residents of the R.M. of St. Andrews.
To acquire a live trap, submit a
service request
for rental of the Live Trap. Once this information is submitted, the public works administrator will contact you to let you know if one is available. You can view more about the procedures here:
Live Trap Rental Agreement and Procedure
. We will provide instructions to the resident on how to use the trap, the best locations for trap placement and popular baits that can be used. Any damages to the traps while in possession of the residents will be the responsibility of the resident. If the trap is damaged beyond repair or stolen, the resident agrees to pay for a replacement trap for the sum indicated on the rental agreement.
A $75.00 refundable deposit must be paid and a rental agreement/waiver signed prior to release of the trap. A damaged trap will be assessed by the Public Works Superintendent and any charges made will reflect the cost of repairing and/or replacing the trap. The RM is NOT responsible for any actions performed by the resident including accidental catches or the harming of a trapped animal when the trap is in the possession of the resident.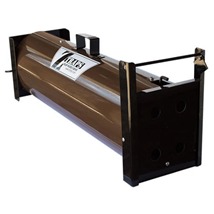 About the Trap -'The Z-Trap'
Front door is a heavy duty, guillotine style, steel door. The trap can be placed anywhere with our stabilizing system. The rear door makes baiting, releasing, relocated and cleaning easy. Solid tube design keeps captured raccoons, skunks and other animals away from the prying eyes of passersby. The enclosed confinement of trap tube will keep animals calm and prevent trappers from being scratched, bitted or sprayed.