Policing services are provided by the Selkirk RCMP Detachment which is located at 1019 Manitoba Avenue in Selkirk, Manitoba
Some of their services include General Detachment Policing, Traffic Services, Safety, Education and Awareness Programs, non tolerance of Drugs and Illegal Substances as well as Crime Investigation. The Detachment offers 24 hr. policing to the Municipality.
Council of the R.M. of St. Andrews meets regularly with the RCMP to review any issues of concern that are occurring within our region.
For general inquiries/non-emergency calls, you can call (204) 482-1222 and if it is an emergency, call 911.
If you are in a situation where you are not sure if it is an emergency or not, call 911 and dispatch will transfer you to the non-emergency line if necessary based on the situation.
The RCMP is constantly looking for different ways to make it easier for individuals to report crime. If you are at all hesitant to contact the RCMP, they do have an
online reporting tool
.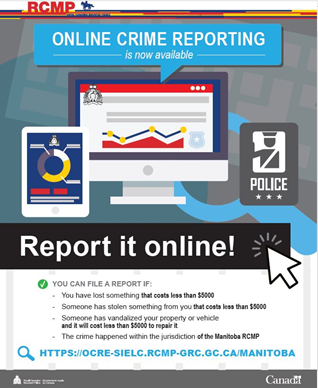 Important Tips from the RCMP
Make sure to lock vehicles, garages, doors and windows
Secure belongings if you need to keep them outside, such as bicycles, lawn mowers, ATVs
Do not keep valuables in your vehicles
Keep outdoor lights on and consider installing motion lights around your home
Consider investing in a motioned alarm system
Be diligent, keep an eye out for suspicious behavior or anything out of the norm for your area
Keep an eye out for neighbors and their properties
Call the RCMP to report, it is very important for them to know. Often crimes like the above happen in a string of events, so something that you report could be a critical piece of the puzzle in solving a crime
Selkirk RCMP Detachment
1019 Manitoba Ave.
Selkirk, MB R1A 3T7
Phone: (204) 482-1222
Fax: (204) 482-9131