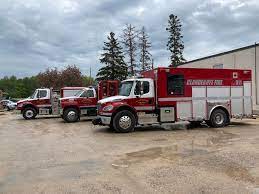 The R.M. of St. Andrews Fire Department provides fire fighting services, public education on fire prevention, performs rescue and emergency services, first medical response, conducts fire inspections, responds to hazardous material spills and any emergency as required.
Members must undergo training to a minimum Level I Firefighting Certification and hold a Class 4 drivers license with air-brake endorsement. Members are equipped with 24 hour call-out pagers for quick response time. Some members are trained both as Fire Fighters and Emergency Medical Responders (EMRs).
The Fire Department is comprised of three district fire stations each having its own Fire Chief.
You can view the fire hall boundaries on this
map
.
Clandeboye Fire Hall (Station #1)

Railway Avenue, Clandeboye

Chief Ed Paskaruk

(204) 738-2607 (non-emergency)

St. Andrews Fire Hall (Station #2)

5610 Highway #9, St. Andrews

Chief Ken Peacock

(204) 757-4748 (non-emergency)

Matlock Fire Hall (Station #3)

108 Grant Avenue, Matlock

Chief Seth Johnson

(204) 389-2004 (non-emergency)
The following are recommendations from the Fire Department for residents:
keep driveways clear of snow, tree branches, and any other obstructions (clear to a minimum width of 14 feet)
ensure your civic address sign is visible; emergency vehicles depend on those numbers for reference when locating a residence during a response
ensure that your fuel is dry and your chimney is cleaned regularly, especially if wood is your primary heating fuel
ensure all entry/exits in your home are cleared from snow
make sure all windows are not frozen
when burning, always have a water supply available should a fire get out of control
SLOW DOWN and MOVE OVER for all Emergency Vehicles; please lower your speed and drive with caution and give safe clearance when passing all emergency response vehicles
replace smoke alarms every 10 years
ensure you familiarize yourself with the RM's Burning By-Law and learn what you can and cannot burn and in what areas; more information on fire safety and burning can be found on the Wildfire, Burning and Fire Safety Information page
Applicants:
must be 18 years of age or older
must be medically and physically fit for Fire Fighting duties; a Doctor's Certificate shall be provided
must be able to obtain a Class 4 Drivers License with "Air Brake Endorsement"
must be able to obtain Level 1 Fire Fighting Certificate
must have or be able to obtain CPR and First Aid
must be able to provide drivers license abstract, criminal record check and child abuse registry form
EMR Applicants must have approved EMR course or be able to obtain EMR certificate and licensure with Manitoba Health
Rate of pay is on a per call basis, once training and hiring are complete