October 3, 2022
Manitoba Hydro has received a number of questions from communities regarding Lake Winnipeg water levels. In response to the questions, Manitoba Hydro has prepared this Information Sheet - Fall 2022. For more information about river water levels and flows, visit Water levels & flows (hydro.mb.ca).
A State of Local Emergency does NOT have to be declared by a municipality to receive Disaster Financial Assistance (DFA) if a funding program is established by the Province.
Declaring a State of Local Emergency (SOLE) only gives the municipality extra powers as per The Emergency Measures Act, to protect lives, property and infrastructure.
At this point, a DFA program has not been established, however DFA applications will help Manitoba EMO assess the impacts of spring flooding and will be used to determine whether a DFA program may be established.
If you have experienced property damage as a result of spring flooding, please follow these steps:
1. Contact your insurance provider first to see what damages are covered by insurance. Overland flood insurance is available in Manitoba and sewer back-up insurance is a well-established insurance product.
The roads are very wet and soft and some vehicles may get stuck and damage the roads by creating ruts and holding the water longer.
Water will continue to flow from the west and there is no quick solution. This event exceeds the design capacity of the system.
Public Works staff are currently pumping by the railway tracks in Matlock.
We are are participating in daily virtual meetings with the Province and obtaining the latest updates on the impacts this rain may have on flows and water levels throughout Manitoba. Heavy rain occurring in a short timeframe or on saturated soils could create overland flooding issues, particularly where ditches and waterways are already full or near capacity. The amount of precipitation expected varies anywhere from 30 – 80 mm of rain but with this dynamic system, the amounts and location of precipitation could shift as it moves throughout Manitoba.
If you are experiencing water problems, please submit a service request so it gets into our tracking system. These requests get submitted immediately to our Public Works staff via email and it makes it easier for them to prioritize the submissions based on risk levels.
We do have empty sandbags available on the south side of our Public Works Shop in Clandeboye as well as at our South Fire Hall. There is a sand pile across the road in the Public Works yard as well as at the South Fire Hall on Highway #9 and Donald Road. There is a limit of 200 bags per person.
If using your phone to submit a service request, you must download our App first and do it through the App. A service request cannot be submitted on the phone without the Apps
Please note that the RM does not look after the ditches or blocked culverts along any provincial road or highway. You can contact the Highways Dept. at 204-346-6266.
Public Works staff will continue to monitor water levels throughout the weekend.
The Red River is expected to crest in Winnipeg on May 10. The forecasted crest does not represent a significant risk in St. Andrews. River flooding is typically the result of an ice dam, and there is no longer that risk on the Red.
If you feel your property may be at risk, there are some great resources of information on our website – Flood Fact Sheets.
We will continue to provide any further updates on our website as well as Twitter.
Medicine Creek Road - barricades removed and road re-opened

River Road between Fial Crescent and Craig Avenue east - barricades removed and road re-opened

Clandeboye Road from Whiskey Ditch Road to Breezy Point Road (PR#320) - barricades removed and road re-opened
Wavey Creek Road - barricades removed and road re-opened

Jenny Drive is open but still in rough condition
Jenny Drive

Whitetail Trail at Jenny Drive (Masters Subdivision)

Balcaen Road
Wavey Creek Road

- water is going over the road in the areas of 33, 35 and 96 Wavey Creek Road. Road is closed to the public - local traffic only -

UPDATED APR 11 AT 8 A.M. - Road has been re-opened

Medicine Creek Road

- water is going over the road in the area of 115 Medicine Creek Road as it runs east/west to McAulay Road. Road is closed to the public - local traffic only -

UPDATED APR 12 AT 8 A.M. - Road has been re-opened

River Road

- River Road has caved in near Fial Crescent (at 1022/1024 River Road). Barricades are up at Craig Ave E and Fial Crescent. Road is closed - no thru traffic -

UPDATED APR 12 AT 1:00 P.M. - Road has been re-opened
If you require bags, contact the Public Works Department at 204-738-2076 or submit a
service request
.
If using your phone to submit a service request, you must download our
App
first and do it from the App. It cannot be submitted through the phone without the App.
The RM is not responsible for individual property protection, does not deliver sandbags and will not provide staff to install them.
There are some great fact sheets and resources of information on our
Flood Fact Sheets
page that can provide guidance and assistance in preparing for possible flooding situations.
We will continue to communicate regularly with residents through
CONNECT
,
our
website
and
Twitter
, posting updates on ice movement, as well as posting any camera or drone footage, if available. If you aren't already registered for
CONNECT
, please
sign up now
so you can receive important updates and information by text, email or phone call - whichever method you prefer.
If you are concerned about potential flooding this upcoming spring or have questions, please contact the RM Office at 204-738-2264 or 1-866-738-2264.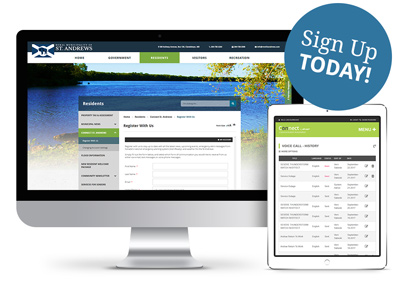 CONNECT With St. Andrews
Register with CONNECT, our communication system that allows us to contact you quickly in a way that works for you…by voice message, on your land line telephone, by text or voice message on your cell phone or by e-mail. Stay informed of all the latest news, upcoming events, emergency alert messages and more.
During an emergency or flood situation, we are able to map out specific areas and send important notifications to those registered individuals in the specified area immediately. It is a very useful and important tool for us to communicate with you so please register today!